The Kosei Grapevine is a monthly English newspaper. It has been published by the native English teachers at Kosei since November 22, 2008. The articles cover school events, activities, and other topics, including life in New Zealand.
Our goal is to keep the school community informed of how Kosei's English teachers provide English language education in an English-rich environment. We hope that you will enjoy reading it with the whole family.
If you have any questions or comments regarding The Kosei Grapevine, please feel free to send them "here" or to fax us on 03-3309-0617.
---
「The Kosei Grapevine」Vol.10 Issue 4 March 16th 2018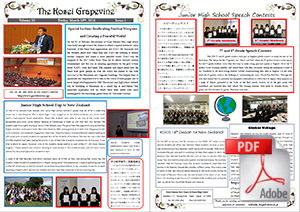 「The Kosei Grapevine」Vol.10 Issue 3 February 2nd 2018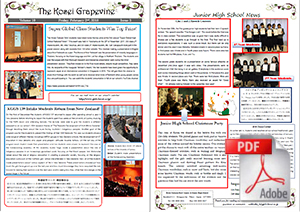 「The Kosei Grapevine」Vol.10 Issue 2 November 3rd 2017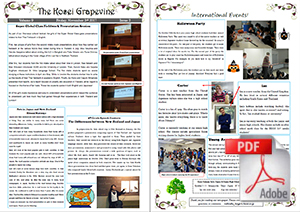 「The Kosei Grapevine」Vol.10 Issue 1 July 7th 2017

---
Back Issues
◆「The Kosei Grapevine」Vol.9 Issue 4 March 10th 2017
◆「The Kosei Grapevine」Vol.9 Issue 3 December 16th 2016
◆「The Kosei Grapevine」Vol.9 Issue 2 September 23rd 2016
◆「The Kosei Grapevine」Vol.9 Issue 1 June 3rd 2016
◆「The Kosei Grapevine」Vol.8 Issue5 17th March 2016
◆「The Kosei Grapevine」Vol.8 Issue4 11th December 2015
◆「The Kosei Grapevine」Vol.8 Issue3 3rd October 2015
◆「The Kosei Grapevine」Vol.8 Issue2 21st July 2015
◆「The Kosei Grapevine」Vol.8 Issue1 3rd June 2015
◆「The Kosei Grapevine」Vol.7 Issue8 March 13, 2015
◆「The Kosei Grapevine」Vol.7 Issue7 February 6, 2015
◆「The Kosei Grapevine」Vol.7 Issue6 December 19, 2014
◆「The Kosei Grapevine」Vol.7 Issue5 November 21, 2014
◆「The Kosei Grapevine」Vol.7 Issue4 October 3, 2014
◆「The Kosei Grapevine」Vol.7 Issue3 July 18, 2014
◆「The Kosei Grapevine」Vol.7 Issue2 June 13, 2014
◆「The Kosei Grapevine」Vol.7 Issue1 May 16, 2014
◆「The Kosei Grapevine」Vol.6 Issue8 March 13, 2013
◆「The Kosei Grapevine」Vol.6 Issue7 February 13, 2013
◆「The Kosei Grapevine」Vol.6 Issue6 December 24, 2013
◆「The Kosei Grapevine」Vol.6 Issue5 November 26, 2013
◆「The Kosei Grapevine」Vol.6 Issue4 October 7, 2013
◆「The Kosei Grapevine」Vol.6 Issue3 July 19, 2013
◆「The Kosei Grapevine」Vol.6 Issue2 June 21, 2013
◆「The Kosei Grapevine」Vol.6 Issue1 April 30, 2013
◆「The Kosei Grapevine」Vol.5 Issue9 March 11, 2013
◆「The Kosei Grapevine」Vol.5 Issue8 February 4, 2013
◆「The Kosei Grapevine」Vol.5 Issue7 December 22, 2012
◆「The Kosei Grapevine」Vol.5 Issue6 November 26, 2012
◆「The Kosei Grapevine」Vol.5 Issue5 October 29, 2012
◆「The Kosei Grapevine」Vol.5 Issue4 October 3, 2012
◆「The Kosei Grapevine」Vol.5 Issue3 July 20, 2012
◆「The Kosei Grapevine」Vol.5 Issue2 June 16, 2012
◆「The Kosei Grapevine」Vol.5 Issue1 April 28, 2012
◆「The Kosei Grapevine」Vol.4 Issue9 (PDF) March 9, 2012
◆「The Kosei Grapevine」Vol.4 Issue8 (PDF) January 22, 2012
◆「The Kosei Grapevine」Vol.4 Issue7 (PDF) December 14, 2011
◆「The Kosei Grapevine」Vol.4 Issue6 (PDF) November 10, 2011
◆「The Kosei Grapevine」Vol.4 Issue5 (PDF) October 18, 2011
◆「The Kosei Grapevine」Vol.4 Issue4 (PDF) September 20, 2011
◆「The Kosei Grapevine」Vol.4 Issue3 (PDF) July 8, 2011
◆「The Kosei Grapevine」Vol.4 Issue2 (PDF) June 10, 2011
◆「The Kosei Grapevine」Vol.4 Issue1 (PDF) April 30, 2011
◆「The Kosei Grapevine」Vol.3 Issue11 (PDF) March 1, 2011
◆「The Kosei Grapevine」Vol.3 Issue10 (PDF) January 26, 2011
◆「The Kosei Grapevine」Vol.3 Issue9 (PDF) December 18, 2010
◆「The Kosei Grapevine」Vol.3 Issue8 (PDF) November 19, 2010
◆「The Kosei Grapevine」Vol.3 Issue7 (PDF) November 13, 2010
◆「The Kosei Grapevine」Vol.3 Issue6 (PDF) October 15, 2010
◆「The Kosei Grapevine」Vol.3 Issue5 (PDF) September 21, 2010
◆「The Kosei Grapevine」Vol.3 Issue4 (PDF) July 16, 2010
◆「The Kosei Grapevine」Vol.3 Issue3 (PDF) June 25, 2010
◆「The Kosei Grapevine」Vol.3 Issue2 (PDF) May 28, 2010
◆「The Kosei Grapevine」Vol.3 Issue1 (PDF) April 24, 2010
◆「The Kosei Grapevine」Vol.2 Issue11 (PDF) February 20, 2010
◆「The Kosei Grapevine」Vol.2 Issue10 (PDF) January 25, 2010
◆「The Kosei Grapevine」Vol.2 Issue9 (PDF) December 10, 2009
◆「The Kosei Grapevine」Vol.2 Issue8 (PDF) November 27, 2009
◆「The Kosei Grapevine」Vol.2 Issue7 (PDF) November 14, 2009
◆「The Kosei Grapevine」Vol.2 Issue6 (PDF) October 14, 2009
◆「The Kosei Grapevine」Vol.2 Issue5 (PDF) September 17, 2009
◆「The Kosei Grapevine」Vol.2 Issue4 (PDF) July 18, 2009
◆「The Kosei Grapevine」Vol.2 Issue3 (PDF) June 17, 2009
◆「The Kosei Grapevine」Vol.2 Issue2 (PDF) May 18, 2009
◆「The Kosei Grapevine」Vol.2 Issue1 (PDF) April 25, 2009
◆「The Kosei Grapevine」Vol.1 Issue5 (PDF) March 13, 2009
◆「The Kosei Grapevine」Vol.1 Issue4 (PDF) February 25, 2009
◆「The Kosei Grapevine」Vol.1 Issue3 (PDF) January 22, 2009
◆「The Kosei Grapevine」Vol.1 Issue2 (PDF) December 12, 2008
◆「The Kosei Grapevine」Vol.1 Issue1 (PDF) Nobember 22, 2008
※ご覧になるためにはAdobe Reader等のPDF閲覧ソフトが必要です。Adobe Readerソフトウェアは、Adobe PDFドキュメントを共有するための、PDF閲覧ツールです。 Adobe PDFファイルを開いて、表示、印刷、検索を行うためのソフトウェアとして、Adobe Readerをお使いください。