The SG Class take "English for Specific Purposes" to prepare for IELTS
This class helps students to improve across the four main skill areas.
CEFR取得目標!
Kosei students aim to get IELTS score 5.0 and above during their second year of high school
Students need to have acquired skills equivalent to B1 (Intermediate) level of the CEFR in order to receive report writing tuition at SOAS (the University of London.)
According to a 2018 report from the Japanese Ministry of Education only 39.3% of all Japanese high school students have acquired English skills equivalent to level Pre-2 of EIKEN by graduation.
In other words, research shows that most high school students in Japan only reach the A1-A2 level of the CEFR. Here at Kosei, students aim to reach B1 level during their second year of high school and B2 level during their third year of high school.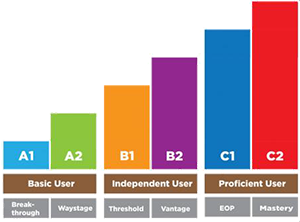 How the SG Class lessons are structured to build all four English skills
Students take classes with a focus on using all four skills to learn about global social issues.
4 skills (Listening / Writing / Reading / Speaking)
5 areas (Listening / Writing / Reading / Speaking / Interaction / Presentations)