Kosei Girls are Global!
Our students continue to win prizes at both domestic and international competitions!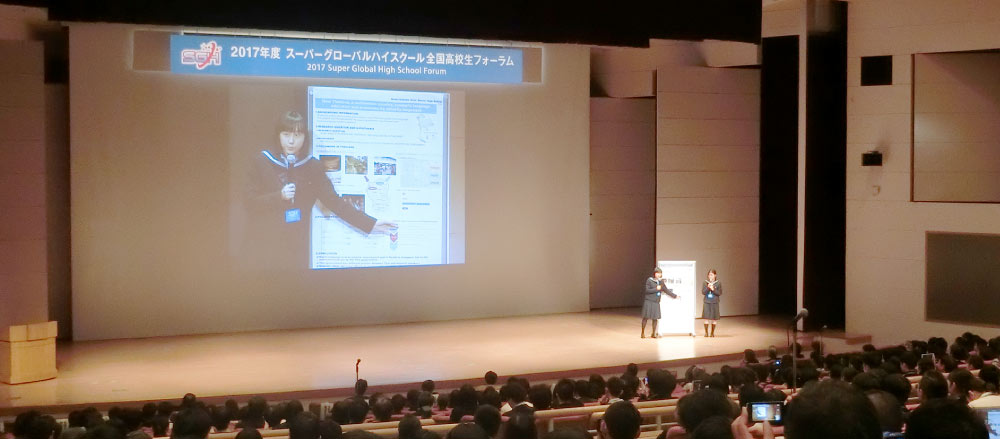 Number 1 in Japan

Two of our students took home the top prize at the inaugural All Japan Super Global High School Forum

Students from designated "Super Global High Schools" all over Japan took part in this prestigious event. Students presented the findings of their research investigations in English. Out of the 133 schools that participated, 4 schools were selected to take part in the final round of presentations. Two students from our school went on to take home the top prize, the Education Minister's Award.
2nd Place at an International Competition!

In 2018, one of our students was awarded second prize at a prestigious international competition!

Ms. Aika Tokuhisa, one of our two winning students from the "All Japan Super Global High School Forum" took the stage at "Global Link Singapore 2018."
Aika came 2nd out of the 37 teams who participated in the social research section of the competition.
A Rich Variety
The SGH Program
What is an SGH?
A Super Global High School (SGH) is a school that has been recognized by the government for its strong focus on fostering the skills needed by future global leaders. In 2014, we were among the first 246 high schools across Japan to become a designated SGH.
"The furthering of peace in multi-ethnic societies through fieldwork"
Our students carry out fieldwork research on a topic of their choice to investigate how we can build societies where people from different ethnic backgrounds can live together peacefully. Students visit several countries to gain a firsthand understanding of the situations faced by different groups.